Terug
Wonderful
Colin Blunstone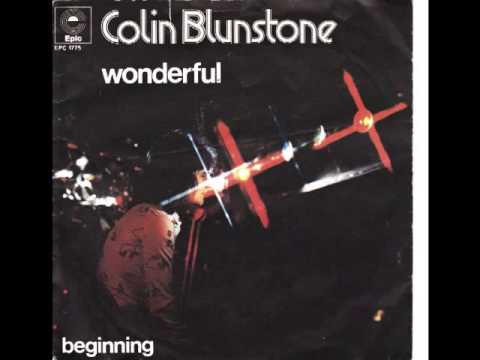 Songinfo
"Wonderful" is een typische radioplaat die veel airplay kreeg en krijgt.
Trivia
Wist je dat?
In 1964 vormde Colin samen met toetsenist Rod Argent, gitarist Paul Atkinson, bassist Chris White en drummer Hugh Grundy de band The Zombies. De bekendste hits waren "She's Not There", "Tell Her No", "Summertime" en "Time of the Season".
Na het uiteenvallen van de band in 1968 begon Colin aan zijn solocarrière.
Onder het pseudoniem Neil McArthur nam hij nogmaals de Zombies-hit "She's Not There" op, daarna gebruikte hij zijn eigen naam. Begin jaren zeventig had Colin meerdere solo hits. Vanaf 1990 zijn The Zombies weer regelmatig bij elkaar en hebben ze ook cd's met nieuw materiaal opgenomen.
Artiest
A-kant Componist(en)
Rod Argent & Chris White
A-kant Producer(s)
Rod Argent & Chris White
B-kant componist(en)
Colin Blunstone
B-kant producer(s)
Rod Argent & Chris White
Songtekst
I can see the bright line
Of the runway light shine
Coming home tonight
Flight from out the sky
Sitting here in silver wings
Hear the engine stundering
Hanging here so easily
Above the lights of home
I need you more than ever now my love
Oh watch the lights of a city draw me to your name

Wonderful, wonderful
You're my lady wonderful
Wonderful, wonderful
Run to me my lady wonderful

Will you see me touch down
All the numbers turn round
On the flight arrivals high in the hall
I wait impatiently
Knowing you're not far from me
Trying to catch a look of you
Through the customs wall
I want you more than ever now my love
There's nothing more than a wall holding us apart

Wonderful, wonderful
You're my lady wonderful
Wonderful, wonderful
Run to me my lady wonderful

Wonderful, wonderful
You're my lady wonderful
Wonderful, wonderful
Run to me my lady wonderful

Alle Top 40-hits