Terug
Sympathy For The Devil
The Rolling Stones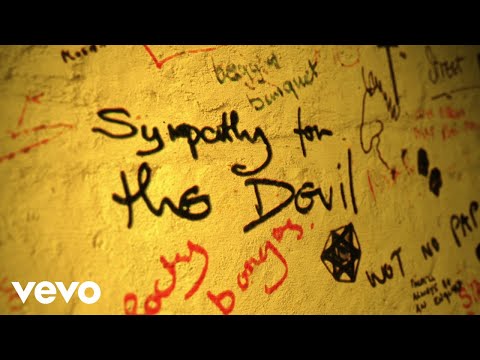 Songinfo
Dit lied stond oorspronkelijk op het album Beggars Banquet uit 1968.

De singlehoes laat een verbeelding van het Radio Veronicaschip zien. Dit heeft te maken met het feit dat deze versie uit 1973 een edit is van het nummer, destijds gemaakt door Veronicatechnicus Juul Geleick (wat de afbeelding op de hoes verklaart), op initiatief van de Nederlandse platenmaatschappij Phonogram. Er was echter geen toestemming verleend voor het uitbrengen van deze single, waardoor ruzie ontstond met de Engelse vertegenwoordiging van de groep. De onenigheid verstomde al snel toen de single de Top 40 bereikte, want dat deed de kassa rinkelen.

De plaat en z'n verhaal (i.e. een vrije vertaling):
Hallo, mag ik zo vrij zijn om me even aan je voor te stellen? Ik ben een man van naam en faam en ik loop al heel wat jaren mee. Sterker nog, ik was er al toen Jezus zich opofferde voor de gehele mensheid. En ik was het die ervoor zorgde dat Pontius Pilatus z'n handen kon wassen in onschuld. In Sint Petersburg was ik ook van de partij en maakte daar de weg vrij voor een revolutie. De tsaar en zijn gevolg zijn door mij persoonlijk afgeslacht. En door mijn schuld bleef zijn dochter, grootvorstin Anastasia, eenzaam achter. Ik leidde de blitzkrieg naar een overwinning en stond als een trotse generaal in een slagveld vol rottende lijken. Ook de 100-jarige oorlog tussen Engeland en Frankrijk was me een groot genoegen. Koningen en koninginnen vlogen elkaar in de haren met hel en verdoemenis en ze hielden het volk in hun greep. De kreet 'Wie vermoordde Kennedy?' is trouwens ook door mij bedacht, met in m'n achterhoofd de gedachte dat hij in eerste instantie zichzelf de das om heeft gedaan. En ik stuiterde op mars van de Britse troubadours richting Bombay. Het is toch algemeen bekend dat ieder mens eigenlijk een crimineel is, of niet soms? Zelfs mensen die zich keurig aan de wet houden. Ook alle zondaars zullen immers worden geheiligd. Slechte mensen komen er altijd weer genadig vanaf. Maar nu heb ik eigenlijk wel genoeg over mezelf verteld, dus mochten we elkaar ooit tegenkomen, blijf dan beleefd tegen me, zoals je dat vroeger hebt geleerd. Als je dat namelijk niet doet, heb ik geen andere keus dan je te beroven van je ziel. Zeg eens eerlijk, kun je na dit verhaal een beetje hoogte van me krijgen, of heb je zelfs al een idee wie ik precies ben?

Trivia
Wist je dat?
Sympathy For The Devil is na 1973 nog enkele malen in de Top 40 verschenen, eerst in de versies van enerzijds
Buffalo Bob and The Rinkelstars
(piekpositie 18 in 1990) en anderzijds
Guns N' Roses
(top 10-hit in 1994), daarna als
remix
(piekend op 15 in 2003).
Coverversie
1969: Arif Mardin (Words and Music by Mick Jagger and Keith Richard) (Arrangements by Arif Mardin) (Eddie Hinton, Lead Guitar & Harmonica) (Jimmy Johnson, Rhythm Guitar) (Barry Beckett, Organ, Electric Piano & Piano) (David Hood, Electric Bass) (Roger Hawkins, Drums & Percussion) (Marty Fulterman, Oboe on "Sympathy for the Devil") (Piccolo Trumpet Solo, Mel Davis on "Sympathy for the Devil") (Vocals Effects by Eddie Hinton on "Sympathy for the Devil") (Vocal Backgrounds by Jeanie Greene, Donna Thatcher & Mary Holiday) (Recorded at Muscle Shoals Sound Studio, Muscle Shoals, Alabama & Atlantic Recording Studios, New York) (Recording Engineers: Tom Dowd, Martin Greene, William Arlt, Jimmy Johnson & Adrian Barber) (Produced by Arif Mardin) als Sympathy for the Devil (LP: Glass Onion) [Atlantic SD 8222]
Artiest
A-kant Titel
Sympathy For The Devil
A-kant Componist(en)
M. Jagger, K. Richard
B-kant componist(en)
M. Jagger, K. Richard
Songtekst
Please allow me to introduce myself
I'm a man of wealth and taste
I've been around for a long, long year
Stole many a man's soul and faith

I was 'round when Jesus Christ
Had his moment of doubt and pain
Made damn sure that Pilate
Washed his hands and sealed his fate

Pleased to meet you
Hope you guess my name
But what's puzzling you
Is the nature of my game

I stuck around St. Petersburg
When I saw it was a time for a change
Killed the tsar and his ministers
Anastasia screamed in vain

I rode a tank
Held a general's rank
When the blitzkrieg raged
And the bodies stank

Pleased to meet you
Hope you guess my name, oh yeah
Ah, what's puzzling you
Is the nature of my game, oh yeah

I watched with glee
While your kings and queens
Fought for ten decades
For the gods they made

I shouted out,
"Who killed the Kennedys?"
When after all
It was you and me

Let me please introduce myself
I'm a man of wealth and taste
And I laid traps for troubadours
Who get killed before they reach Bombay

Pleased to meet you
Hope you guessed my name, oh yeah
But what's puzzling you
Is the nature of my game, oh yeah, get down, baby

Pleased to meet you
Hope you guessed my name, oh yeah
But what's confusing you
Is just the nature of my game

Just as every cop is a criminal
And all the sinners saints
As heads is tails
Just call me Lucifer
'Cause I'm in need of some restraint

So if you meet me
Have some courtesy
Have some sympathy, and some taste
Use all your well-learned politesse
Or I'll lay your soul to waste, um yeah

Pleased to meet you
Hope you guessed my name, um yeah
But what's puzzling you
Is the nature of my game, um mean it, get down

Woo, who
Oh yeah, get on down
Oh yeah
Oh yeah!

Tell me baby, what's my name
Tell me honey, can ya guess my name
Tell me baby, what's my name
I tell you one time, you're to blame

Oh, who
woo, woo
Woo, who
Woo, woo
Woo, who, who
Woo, who, who
Oh, yeah

What's my name
Tell me, baby, what's my name
Tell me, sweetie, what's my name

Alle Top 40-hits