Terug
Magical Mystery Tour
Beatles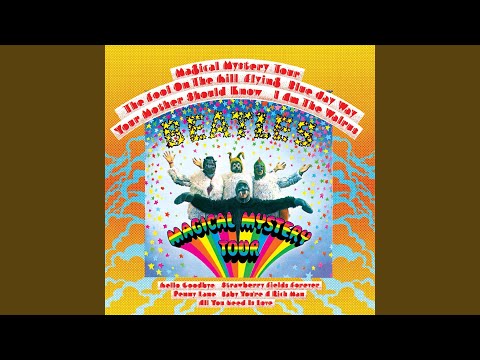 Trivia
Wist je dat?
Deze ep bestaat uit twee 7"-singles die zes liedjes bevatten uit de geflopte televisiefilm Magical Mystery Tour.
De tracklijst is als volgt:
Kant A:
1. Magical Mystery Tour
2. Your Mother Should Know
Kant B:
1. I Am The Walrus
Kant C:
1. The Fool On The Hill
2. Flying
Kant D:
1. Blue Jay Way
De ep bevat ook een boekwerkje van 24 pagina's over de film, met foto's en songteksten.
Artiest
A-kant Titel
Magical Mystery Tour
A-kant Componist(en)
Lennon, McCartney ; Lennon, McCartney
A-kant Producer(s)
George Martin
B-kant titel
I Am The Walrus
B-kant componist(en)
Lennon, McCartney
B-kant producer(s)
George Martin
Catalogusnr
SMO 39 501/2, SMMT 1
Songtekst
MAGICAL MYSTERY TOUR:

Roll up, roll up for the magical mystery tour
Step right this way

Roll up
Roll up for the mystery tour
Roll up
Roll up for the mystery tour
Roll up (And that's an invitation)
Roll up for the mystery tour
Roll up (To make a reservation)
Roll up for the mystery tour

The magical mystery tour is waiting to take you away
Waiting to take you away

Roll up
Roll up for the mystery tour
Roll up
Roll up for the mystery tour
Roll up (We've got everything you need)
Roll up for the mystery tour
Roll up (Satisfaction guaranteed)
Roll up for the mystery tour

The magical mystery tour is hoping to take you away
Hoping to take you away

Mystery trip

Ah
The magical mystery tour
Roll up
Roll up for the mystery tour
Roll up (And that's an invitation)
Roll up for the mystery tour
Roll up (To make a reservation)
Roll up for the mystery tour

The magical mystery tour is coming to take you away
Coming to take you away

The magical mystery tour is dying to take you away
Dying to take you away
Take you today

_________________________________________


YOUR MOTHER SHOULD KNOW:

Let's all get up and dance to a song
That was a hit before your mother was born
Though she was born a long, long time ago
Your mother should know (Your mother should)
Your mother should know (Know)

Sing it again
Let's all get up and dance to a song
That was a hit before your mother was born
Though she was born a long, long time ago
Your mother should know (Your mother should)
Your mother should know (Know)

Lift up your hearts and sing me a song
That was a hit before your mother was born
Though she was born a long, long time ago
Your mother should know (Your mother should)
Your mother should know (Ah)
Your mother should know (Your mother should)
Your mother should know (Ah)

Sing it again
Dada dada dada da dada dada
Dada dada da dada dada
Though she was born a long, long time ago
Your mother should know (Your mother should)
Your mother should know (Know)
Your mother should know (Your mother should)
Your mother should know (Know)
Your mother should know (Your mother should)
Your mother should know (Know)

_____________________________________


I AM THE WALRUS:

I am he as you are he as you are me and we are all together
See how they run like pigs from a gun see how they fly
I'm crying

Sitting on a cornflake
Waiting for the van to come
Corporation T-shirt, stupid bloody Tuesday
Man, you been a naughty boy, you let your face grow long
I am the eggman
They are the eggmen
I am the walrus
Goo goo goo joob

Mister City Policeman sitting, pretty little policemen in a row
See how they fly like Lucy in the sky, see how they run
I'm crying
I'm crying
I'm crying
I'm crying

Yellow matter custard
Dripping from a dead dog's eye
Crabalocker fishwife, pornographic priestess
Boy, you been a naughty girl, you let your knickers down
I am the eggman
They are the eggmen
I am the walrus
Goo goo goo joob

Sitting in an English garden waiting for the sun
If the sun don't come, you get a tan from standing in the English rain
I am the eggman
They are the eggmen
I am the walrus
Goo goo goo joob, goo goo goo goo joob

Expert textpert choking smokers, don't you think the joker laughs at you (Ha ha ha he he he ha ha ha)
See how they smile like pigs in a sty, see how they snied
I'm crying

Semolina Pilchard
Climbing up the Eiffel Tower
Elementary penguin singing Hare Krishna
Man you should have seen them kicking Edgar Allan Poe
I am the eggman
They are the eggmen
I am the walrus
Goo goo goo joob, goo goo goo goo joob
Goo goo goo joob, goo goo goo goo joob, goo goo
Jooba jooba jooba
Jooba jooba jooba
Jooba jooba
Jooba jooba
Jooba jooba

________________________________________


THE FOOL ON THE HILL:

Day after day, alone on the hill
The man with the foolish grin is keeping perfectly still
But nobody wants to know him
They can see that he's just a fool
As he never gives an answer

But the fool on the hill
Sees the sun going down
And the eyes in his head
See the world spinning around

Well on the way, head in a cloud
The man of a thousand voices talking perfectly loud
But nobody ever hears him
Or the sound he appears to make
And he never seems to notice

But the fool on the hill
Sees the sun going down
And the eyes in his head
See the world spinning around

And nobody seems to like him
They can tell what he wants to do
And he never shows his feelings

But the fool on the hill
Sees the sun going down
And the eyes in his head
See the world spinning around

Oh

He never listen to them
He knows that they're the fools
They don't like him

The fool on the hill
Sees the sun going down
And the eyes in his head
See the world spinning around

Oh
Oh

________________________


FLYING:

[instrumentaal]

________________________


BLUE JAY WAY:

There's a fog upon L.A.
And my friends have lost their way
We'll be over soon, they said
Now they've lost themselves instead

Please don't be long
Please don't you be very long
Please don't be long
For I may be asleep

Well, it only goes to show
And I told them where to go
Ask a policeman on the street
There's so many there to meet

Please don't be long (Don't be long)
Please don't you be very long (Don't be long)
Please don't be long
For I may be asleep

Now it's past my bed I know
And I'd really like to go
Soon will be the break of day
Sitting here in Blue Jay Way

Please don't be long (Don't be long)
Please don't you be very long (Don't be long)
Please don't be long
For I may be asleep

Please don't be long
Please don't you be very long
Please don't be long

Please don't be long
please don't you be very long
Please don't be long

Please don't be long
please don't you be very long
Please don't be long

Don't be long
Don't be long
Don't be long
Don't be long

Don't be long
Don't be long
Don't be long

Alle Top 40-hits