Terug
The Name Of The Game
ABBA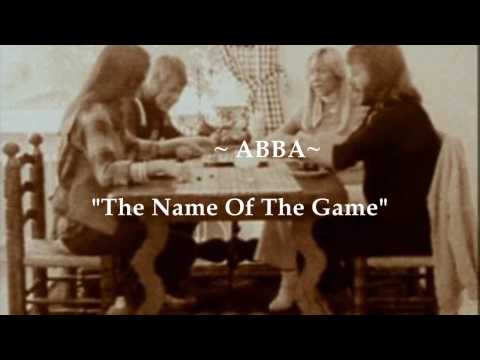 Songinfo
The Name of the Game had eerst de titel "A Bit of Myself" en was het eerste nummer dat werd opgenomen voor "The Album". Het werd hun meest complexe compositie tot dan toe, Agnetha Fältskog en Anni-Frid Lyngstad zongen beiden, maar hadden alle twee ook een solo in het nummer.
De openingsmelodie is gebaseerd op het nummer I Wish van Stevie Wonder (1976). Zowel Andersson als Ulvaeus heeft toegegeven zich te hebben laten inspireren door Stevie Wonders muziek tijdens hun ABBA-tijd.
The Name of the Game gaat over een vrouw die verliefd is en wil weten wat de man er van denkt. Ze vraagt hem of het ook iets voor hem betekent, omdat zij er van opleeft bij hem in de buurt te zijn.

Artiest
A-kant Titel
The Name Of The Game
A-kant Componist(en)
Benny Andersson, Stig Anderson, Björn Ulvaeus
A-kant Producer(s)
Benny Andersson, Björn Ulvaeus, A Polar International Production
B-kant titel
I Wonder (Departure)
Songtekst
I've seen you twice, in a short time
Only a week since we started
It seems to me, for every time
I'm getting more open-hearted

I was an impossible case
No-one ever could reach me
But I think I can see in your face
There's a lot you can teach me
So I wanna know...

What's the name of the game?
Does it mean anything to you?
What's the name of the game?
Can you feel it the way I do?
Tell me please, 'cause I have to know
I'm a bashful child, beginning to grow

And you make me talk
And you make me feel
And you make me show
What I'm trying to conceal
If I trust in you, would you let me down?
Would you laugh at me, if I said I care for you?
Could you feel the same way too?
I wanna know...

The name of the game

I have no friends, no-one to see
And I am never invited
Now I am here, talking to you
No wonder I get excited

Your smile, and the sound of your voice
And the way you see through me
Got a feeling, you give me no choice
But it means a lot to me
So I wanna know...

What's the name of the game?
(Your smile and the sound of your voice)
Does it mean anything to you?
(Got a feeling you give me no choice)
But it means a lot, what's the name of the game?
(Your smile and the sound of your voice)
Can you feel it the way I do?
Tell me please, 'cause I have to know
I'm a bashful child, beginning to grow

And you make me talk
And you make me feel
And you make me show
What I'm trying to conceal
If I trust in you, would you let me down?
Would you laugh at me, if I said I care for you?
Could you feel the same way too?
I wanna know...
Oh yes I wanna know...

The name of the game
(I was an impossible case)
Does it mean anything to you?
(But I think I can see in your face)
That it means a lot
What's the name of the game?
(Your smile and the sound of your voice)
Can you feel it the way I do?
(Got a feeling you give me no choice)
But it means a lot, what's the name of the game?
(I was an impossible case)
Does it mean anything to you?
(But I think I can see in your face)
That it means a lot


Alle Top 40-hits