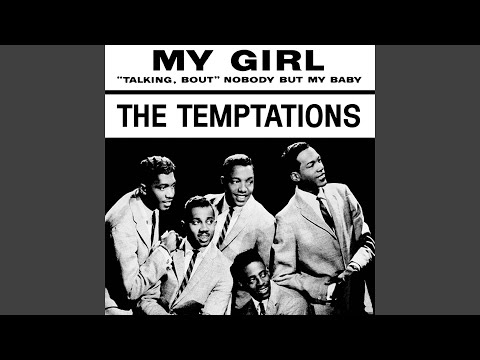 Songinfo
Oorspronkelijk komt My Girl uit 1964. Het nummer is afkomstig van het album The Temptations Sing Smokey uit 1965, waarop The Temptations allemaal nummers van Smokey Robinson zingen.

In 1988 werd My Girl gebruikt in een televisiereclame van het Nederlands Zuivelbureau (Melk. De Witte Motor), waarin een serveerster een bestelling doorgeeft: vijf bier, drie cola, twee cuba's, drie juice en één melk, waarna ze zelf het glas melk opdrinkt.

Pas in 1989 werd My Girl een hit in Nederland. De single werd uitgebracht als promotie voor het verzamelalbum Motown Is Hot, waarvoor ook op televisie reclame werd gemaakt.

Eind 1991 kwam het nummer opnieuw in de belangstelling, omdat het werd gebruikt in de Amerikaanse film My Girl met de jonge Macaulay Culkin en Anna Chlumsky in de hoofdrollen. Naar aanleiding van de film werd het nummer opnieuw op single heruitgebracht, waardoor het in Engeland in 1992 een nummer 2-hit werd.
Artiest
A-kant Componist(en)
W. Robinson, R. White
A-kant Producer(s)
Smokey Robinson, Ronald White
B-kant titel
Don't Look Back
B-kant componist(en)
W. Robinson, R. White
B-kant producer(s)
Smokey Robinson
Hoogste positie UK
2 (1992)
Hoogste positie US
1 (1965)
Album
[diverse artiesten] Motown Is Hot
Songtekst
I've got sunshine on a cloudy day
When it's cold outside I've got the month of May

Well, I guess you'll say
What can make me feel this way?
My girl (My girl, my girl)
Talkin' 'bout my girl (My girl)

I've got so much honey, the bees envy me
I've got a sweeter song than the birds in the trees

Well, I guess you'll say
What can make me feel this way?
My girl (My girl, my girl)
Talkin' 'bout my girl (My girl)

Ooohooo, ooohooo

Hey, hey, hey
Hey, hey, hey

I don't need no money
Fortune or fame
I've got all the riches, baby
One man can claim

Well, I guess you'll say
What can make me feel this way?
My girl (My girl, my girl)

Talkin' 'bout my girl (My girl)

Talkin' bout my girl
I've got sushine on cloudy day
With my girl
I've even got the month of May
With my girl

Talkin' 'bout, talkin' 'bout my girl


Alle Top 40-hits