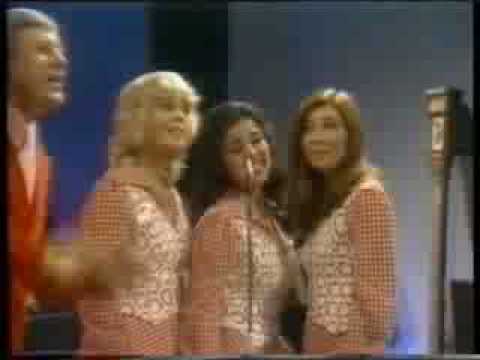 Songinfo
Harmony is een cover van Artie Kaplans versie, die in 1972 op single verscheen.

De B-kant is het thema uit de film "Charlotte's Web" en komt van het album "You Are The Sunshine Of My Life"
Trivia
Wist je dat?
Drie maanden voordat het (Engelstalige) Harmony in de Tipparade verscheen, stond een andere (Duitstalige) versie van Harmony in de Tipparade, namelijk die van
Ricky Shayne
. Het zou diens enige wapenfeit blijven in onze hitlijsten.
Artiest
A-kant Componist(en)
N. Simon, A. Kaplan
B-kant titel
Charlotte's Web
B-kant componist(en)
R. B. Sherman, R. M. Sherman
Songtekst
{transcribed by Adri Verhoef, 18-6-2013}

The time has come, let us begin
With all our voices joining in
To sing of love and brotherhood
People doing what they should do
Help their fellow man be free
And fill this land with harmony
The young and old, the rich, the poor
Making sounds, never heard before

Harmony! Harmony!
Let's all join in harmony
Sing away the hurt and fear
A great new day will soon be here...

Like the shepherd guards his sheep
Watch your children as they sleep
Like the potter turns his clay
Help to shape a better day, and
Let us sing a song of love
There's one thing I'm certain of
Love will fill the hearts of men
Peace will come on earth once again

Harmony! Harmony!
Let's all join in harmony
Sing away the hurt and fear
A great new day will soon be here

Harmony! Harmony!
Let's all join in harmony
Sing of love and brotherhood
And people doing what they should

Harmony! Harmony!
Let's all join in harmony
[fade]

Alle Top 40-hits