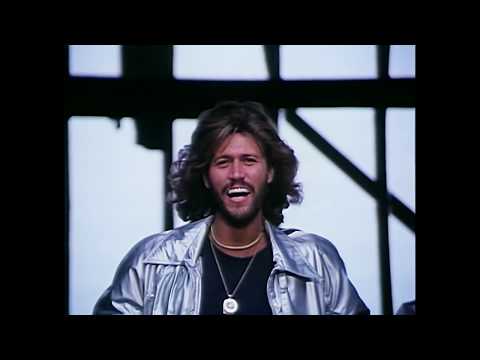 Trivia
Wist je dat?
Dit liedje is afkomstig uit de film
Saturdy Night Fever,
ging op 14 december 1977 in New York City in première, draait vanaf 16 december 1977 in heel Amerika, gaat op 1 januari 1978 in Londen, Engeland in première en op 13 april 1978 in de Nederlandse bioscopen in roulatie.
De film is gebaseerd op een artikel van Nik Cohn met als titel
Tribal Rites of the New Saturday Night.
John Travolta speelt als Tony Manero de hoofdrol. Karen Lynn Gorney is zijn vriendin Stephanie.
Wat veel mensen echter niet weten, is dat ook de moeder en de zuster van John Travolta rolletjes hebben in
Saturday Night Fever.
De 65-jarige Helen Travolta speelt een klant in een verfwinkel en Ann Travolta is te zien als pizzaverkoopster.
John Badham heeft
Saturday Night Fever
geregisseerd. De productie staat op naam van Robert Stigwood en de Bee Gees zijn verantwoordelijk voor de soundtrack.
Artiest
A-kant Titel
Stayin' Alive
A-kant Componist(en)
B. Gibb, R. Gibb, M. Gibb
A-kant Producer(s)
The Bee Gees, Karl Richardson, Albhy Galuten
B-kant titel
If I Can't Have You
B-kant componist(en)
B. Gibb, R. Gibb, M. Gibb
B-kant producer(s)
The Bee Gees, Karl Richardson, Albhy Galuten
Album
Various Artists ‎– Saturday Night Fever (The Original Movie Sound Track)
Songtekst
Well, you can tell by the way I use my walk
I'm a woman's man, no time to talk.
Music loud and women warm,
I've been kicked around since I was born.
And now it's all right, thats okay,
you may look the other way.
We can try to understand
the New York Times' effect on man.

(Chorus)
Whether you're a brother or whether you're a mother
you're stayin' alive, stayin' alive.
Feel the city breakin' and everybody shakin'
and you're stayin' alive, stayin' alive.
Ah, ah, ah, ah, stayin' alive, stayin' alive,
ah, ah, ah, ah, stayin' alive.

Oh, when you walk.

Well, now I get low and I get high,
and if I can't get either, I really try.
Got the wings of heaven on my shoes,
I'm a dancin' man and I just can't lose.
You know, it's all right, it's okay,
I'll live to see another day.
We can try to understand
the New York Times' effect on man.

(Repeat chorus)

(Bridge)
Life goin' nowhere, somebody help me,
somebody help me, yeah.
Life goin' nowhere, somebody help me, yeah.
I'm stayin' alive.

(Repeat first verse)

(Repeat chorus)

(Repeat bridge and fade)

Alle Top 40-hits