Terug
We're All Alone
The Walker Brothers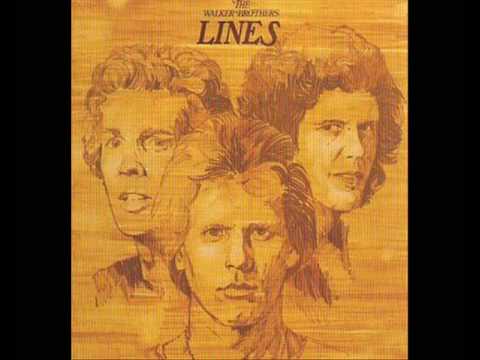 Songinfo
Cover van: Boz Scaggs - We're All Alone (1976).

De versie van componist Boz Scaggs stond op zijn LP "Silk degrees". Deze uitvoering werd door de platenmaatschappij niet op single uitgebracht.,

Naast de versie van The Walker Brothers, had Rita Coolidge met haar versie de grootste hit. Zij stond 5 weken in de Top 40 en bereikte de 17e plaats als hoogste notering.
Trivia
Wist je dat?
The Walker Brothers was een Amerikaanse popmuziekgroep, die actief was in de jaren 60 en 70 van de 20e eeuw. De groep bestond uit Scott Walker, John Walker en Gary Walker maar dit waren hun artiestennamen.
De namen volgens hun paspoort waren:
Scott Walker – geboren als Noel Scott Engel;
Gary Walker – geboren als Gary Leeds;
John Walker – geboren als John Joseph Maus.
Het trio kende 2 perioden van succes: van 1964 t/m 1968 en van 1975 tot 1978.
John Walker overleed in mei 2011 op 67 jarige leeftijd in San Francisco.
Zowel John Walker en Scott Walker stonden als solo artiest in de Top 40 en Tipparade.
John Walker scoorde met "If I promise" in 1967 een 21e plaats als hoogste notering en stond 6 weken in de Top 40.
Scott Walker kwam solo niet verder dan 2 Tipparade noteringen: "Jackie" (cover van een song van Jacques Brel) in 1967 en "Joanna" in 1968.
Artiest
A-kant Titel
We're All Alone
A-kant Componist(en)
Boz Scaggs
A-kant Producer(s)
Scott Walker, Geoff Calver
B-kant titel
Have You Seen My Baby
B-kant componist(en)
Randy Newman
B-kant producer(s)
Scott Walker, Geoff Calver
Songtekst
Outside the rain begins
And it may never end
So cry no more
On the shore of dream
Will take us out to sea
Forever more, forever more

Close your eyes and dream
And you can be with me
'Neath the waves
Through the caves of ours
Long forgotten now
We're all alone
We're all alone

Close the window
Calm the light
And it will be all right
No need to bother now
Let it out
Let it all begin
Learn how to pretend

Once a story's told
It can't help but grow old
Roses do, lovers too
So cast your seasons to the wind
And hold me, dear
Oh, hold me, dear

Close the window
Calm the light
And it will be all right
No need to bother now
Let it out
Let it all begin
All's forgotten now
We're all alone
We're all alone

Close the window
Calm the light
And it will be all right
No need to bother now
Let it out
Let it all begin

Throw it to the wind, my love
Hold me dear
All's forgotten now, my love
We're all alone

Alle Top 40-hits