Terug
Sea Side Shuffle
Terry Dactyl and The Dinosaurs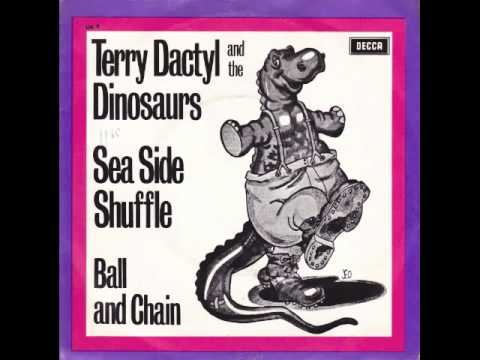 Songinfo
Bluesrockers Brett Marvin and The Thunderbolts bereikten in de UK singles chart de tweede plaats met hun single "Sea Side Shuffle" uit 1972, onder de voor de grap verzonnen naam "Terry Dactyl & The Dinosaurs".
Trivia
Wist je dat?
Op het etiket staat de artiestnaam vermeld als Terry Dactyl And The Dinosours.
Artiest(en)
A-kant Titel
Sea Side Shuffle
A-kant Componist(en)
John Lewis
B-kant titel
Ball And Chain
B-kant componist(en)
John Lewis
Songtekst
It's a warm day
the sun is shining
Someone says "Let's go to Brighton"

So we all get up on our friends car;
Hold on tight 'cos we're doing ninety miles per hour.
We left a London awhere it's hot
We're heading for our favourite spot

Down on the coast way past the town of Crawley;
Where the breeze blows and the air tastes of the sea.

We a walk along the promenade pier
Spend a pound or two on fun and beer
Then look around
see what we can see

Bikini girls and everybody smiling happily.
Sunbathe now h'on the beach
Here is the man who sells ice-cream

Way over there kids throw pebbles in the sea
Where we swim amongst a lot of pretty company.

Alle Top 40-hits