Terug
The Country Disco Train
Saskia & Serge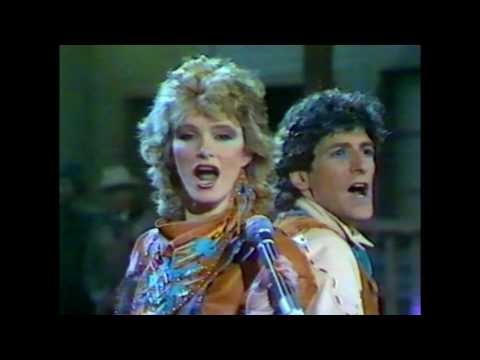 Songinfo
The Country Disco Train is een medley die bestaat uit:
1. The Country Disco Train (Jackson) [Rogers, Wheeler]
2. Stand by your man [Sherrill, Wynette]
3. A Dear John Letter [Talley, Barton, Owen]
4. Rose Garden [South]
5. Blue Bayou [Orbison, Melson]
6. C'est la vie [C. Berry]
7. The Guitar Man (The devil went down to Georgia) [Boylan]

Een opsomming van de schrijvers staat achter elk nummer tussen blokhaken vermeld.
Artiest
A-kant Titel
The Country Disco Train
A-kant Producer(s)
R. Beltman
A-kant Engineer(s)
Pieter Boer
B-kant titel
Goodbye Las Vegas
B-kant componist(en)
Saskia & Serge, Erbee, Goazewyn
B-kant producer(s)
R. Beltman
B-kant engineer(s)
Pieter Boer
Songtekst
Do you hear the whistle blowin'?
Catch the country-disco train

Yeah, yeah, go to Nashville
And take the CDT
Those great songs of Nashville
Are made for you and me

Some times it's hard to be a woman
Givin' all your love to just one man
And if you love him, oh, be proud of him
'Cause after all he's just a man

Stand by your man
And show the world you love him
Keep givin' all the love you can
Stand by your man

Dear John
Oh, how I hate to write
Dear John
I must let you know tonight

(That my love for you has gone) The fighting was all over
(There's no reason to go on) And the battles, they'd all been won
(And tonight I'll wed another, dear John) But then I opened up the letter
And it started "Dear John"

I beg your pardon
I never promised you a rose garden
Along with the sunshine
There's gotta be a little rain some time

When you take you gotta give
So live and let live
Or let go, ohohoho, I beg your pardon
I never promised you a rose garden

Saving nickels, saving dimes
Working 'till the sun don't shine
Looking forward to happier times
On Blue Bayou

I'm going back some day
Come what may to Blue Bayou
Where the folks are fine
And world is mine on Blue Bayou

Where those fishing boats
With their sails afloat if I could only see
That familiar sunrise
Through sleepy eyes, how happy I'd be

It was a teenage wedding
And the old folks wished them well
You could see that Pierre
Did truly love that mademoiselle

Now the young monsieur and madame
Have rung the chapel bell
"C'est la vie, say the old folks
It goes to show you never can tell

Come, take the country-disco train
Blowin' on again and again
Come on and hear the guitar play
Pick it up, playin' the best he can

Alle Top 40-hits