Terug
Live it up
Nicky Jam feat. Will Smith & Era Istrefi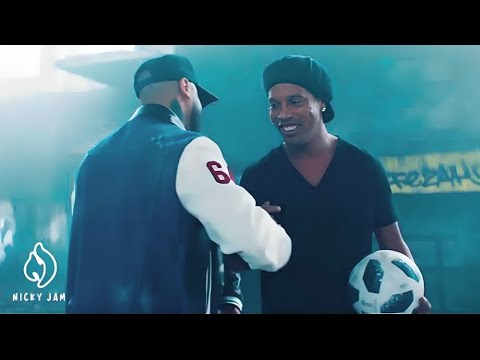 Trivia
Wist je dat?
Live It Up is The Official Song of 2018 FIFA World Cup Russia™. Op 14 juni 2018 om 17.00 uur Nederlandse tijd trapt gastland Rusland af tegen Saudi-Arabië in het olympisch stadion Loezjniki in de Russische hoofdstad Moskou, in de wijk Loezjniki.
Het stadion heette in eerste instantie Leninstadion en werd gebouwd in 1956. Deze sportaccommodatie is onder andere gebruikt voor de Olympische Spelen van 1980, de UEFA Cupfinale in 1999 en de finale van de Champions League in 2008.
Voor het WK werden er tussen december 2013 en februari 2017 verbouwingswerken uitgevoerd, waarbij enkel de façade en het dak overeind bleven. De binnenkant werd volledig vernieuwd en de atletiekpiste weggewerkt. Er zijn nu 78.360 zitplaatsen, alle overdekt.
Iets meer dan een maand later, op zaterdag 15 juli 2018, is het Loezjnikistadion het decor van de finale.
Artiest(en)
Componist(en)
Will Smith · Quavious Marshall · Nick Rivera Caminero · Juan Diego Medina Vélez · Marty James · Jean-Baptiste · Thomas Wesley Pentz · Jocelyn Donald · Maxime Marie Jacques Picard · Clement Marie Jacques Picard
Producer(s)
Diplo [= Thomas Wesley Pentz]
Platenlabel
Sony Music Latin
Songtekst
One life, live it up
Cause we got one life
One life, live it up
Cause we got one life
One life, live it up
Cause you don't get it twice
One life, live it up
Cause you don't get it twice

Strength in numbers
Is a force we can mix
We raise our flags
And put our pride on our back
We feelin' like a champion
When we shine our light
We got the power
Make condition correct

One life, live it up
Cause we got one life
One-one-one life, live it up
Cause we got one life
One-one-one life, live it up
Cause you don't get it twice
One-one-one life, live it up
Cause you don't get it twice

One life, one dream
One moment, one team
One youth, lights high
Thousand roadblocks, one shot
One truth, no fears
One flag, oh yeah
We've been waiting for this all year
Where y'all at, we're right here

Ya empezó la rumba
Y estamos celebrando
Todo el mundo
Que me levante la mano
'Tamos vivos
Hay que disfrutarlo
Hoy nadie me detiene
Porque yo no sé parar, no, no

One life, live it up
Cause we got one life
One life, live it up
Cause we got one life
One life, live it up
Cause you don't get it twice
One life, live it up
Cause you don't get it twice

For the love
I'm a rebel, I'm coming from
Every nation under the sun
Elevating their favourite song when we hit and run
You want it, you got it
The whole world is watching
So let's get this pumping
Where y'all at, we're right here

Only one life to live
Got so much to give
Fighting for the nation now
That is my gift
Run like a champion
And win like a king
That's my only goal
My everything

Live it up now, now
Live it up now, now

Jealousy, ambition
Victory, celebration
One love, one nation
Ay

That's freedom when you reach that goal
That's freedom when you reach that goal
That's freedom when you reach that goal
That's freedom when you reach that goal

Alle Top 40-hits