Terug
How Can I Be Sure
David Cassidy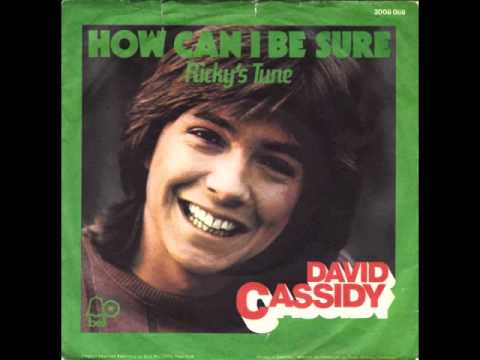 Songinfo
How Can I Be Sure is voor het eerst opgenomen door The Young Rascals voor hun album Groovin' uit 1972. De ervaring die The Young Rascals opgedaan hadden met transcendente meditatie vormde de inspiratie voor dit lied.
Artiest
A-kant Titel
How Can I Be Sure
A-kant Componist(en)
Felix Cavaliere, Edward Brigati Jr.
A-kant Producer(s)
Wes Farrell
B-kant componist(en)
David Cassidy
B-kant producer(s)
Wes Farrell
Songtekst
How can I be sure
In a world that's constantly changin'?
How can I be sure
Where I stand with you?

Whenever I, whenever I am away from you
I wanna die 'cause you know I wanna stay with you

How do I know?
Maybe you're trying to use me
Flying too high can confuse me
Touch me but don't take me down

Whenever I, whenever I am away from you
My alibi is tellin' people I don't care for you
Maybe I'm just hanging around
With my head up, upside down

It's a pity
I can't seem to find someone
Who's as pretty 'n' lovely as you

How can I be sure
I really, really, really, wanna know
I really, really, really, wanna know

How's the weather?
Weather or not, we're together
Together we'll see it much better
I love you, I love you forever
You know where I can be found

How can I be sure?
In a world that's constantly changing?
How can I be sure
In a world that's constantly changing?

How can I? How can I? How can I?
How can I be sure?
I really wanna know
How can I? How can I? How can I?
I really wanna know

How can I?
I'll be sure with you.
I really wanna know

Alle Top 40-hits